In this module, you will find extended information about the functions available in Front Systems Portal.
If you don't find the information you are looking for in this article, you can visit our Portal section on our Front Systems support site.
We recommend that you complete this training module in the order listed below.
1. Use of catalog with super search
---
In this section, you will learn how to use super search in the catalog, how to check stock quantity in other stores/stocks, and how to use product history to check stock movements on items.
Product search
In the product catalog, you can see a search bar at the top right corner.
In this search bar you can search for productid, name, article number, color code, as well as dimensions such as brand, product group, season and color.
You can also search for multiple attributes at the same time, in example "black nike shoes". The result will give you all the products with these attributes.
Filters
You can use filters to limit the search results. The combination of keywords and filters can make it easier for you to quickly find the products you want.
You can filter by the following:
Brand
Season
Deleted products
Products in stock
Sales channel (Any product, available online, only in POS)
Gender
How to check stock quantity of other stores/stocks
If you want to see how much is in stock of a product in another store, or in another warehouse, you can do so by doing the following:
Go to Product followed by Catalog.
Search for the product you want to check stock quantity for.
Click on the product, so you see the product card.
Under Inventory you can select the store you want to see the stock quantity for by size.

How to use filter options in history
If you want to see the history / stock movement on a particular product, you can do this by doing the following:
Go to Products followed by Catalog.
Select the product, so that you see the product card.
Click History.

The product history page logs all stock movements registered on the products performed in the catalog, through deliveries, from the Front Systems POS and in stock counts. Next to the activity you'll also see the date for when the activity was performed and by whom.
In addition, you're also able to filter by type of activity, size, stock, user and date. This is useful in cases where you need to compress the information.
Other useful information found in product history is receipt number, sale id and any notes registered on the sale.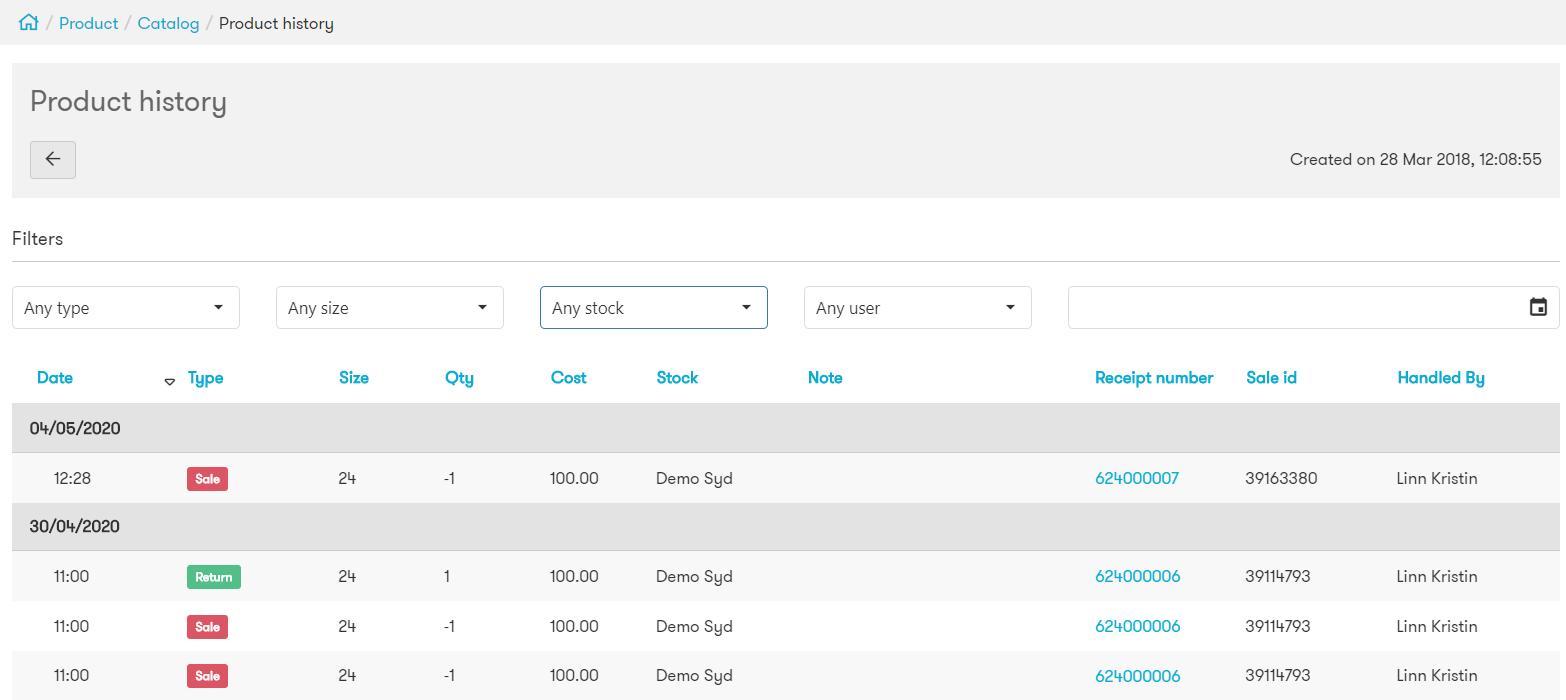 Video
Coming...
2. Stock count
---
In this section, you'll learn how to create a stock count. This can be done either in Portal or directly in FrontZapp (recommended).
How to create a stock count in FrontZapp (Recommended)
FrontZapp is an app developed by Front Systems. The app makes it easy to do efficient and accurate stock counts (with and without RFID price labels), check inventory, move items between stores/stocks and to create deliveries. In this section, we will focus on the stock count function in FrontZapp.
The FrontZapp app is only available for iPhone/iPod users and can be downloaded from AppStore. Once downloaded, you can log in with your user credentials (Same user and password as in the Portal).
N.B.
Check that you're in the correct stock before you start the stock count. Tap the cogwheel in the top right corner to make sure you are in the correct store/stock.
If multiple people are doing stock count at the same time, remember to only create one stock count.
Then do the following:
Tap Stock Count.
Select Create New.
Edit the name of the stock count. For example, "Stock count August 2020" and any filters (optional).
Tap Create.
Info
If you want to create a stock count based on filter, you can hit Add filter. This function allows you to do a stock count based on brand, group, subgroup, season and/or gender. Filters are good to use if you want to do small and partial stock counts throughout the year.
How to create a stock count in Portal
You can also create stock counts in Portal.
In the menu, click Flow of goods.

Select Stock count.
Hit Create new.
A new stock count will appear where you can enter the name, date, description and any filters.
Hit Save. The stock count is now ready in FrontZapp.
How to open and read stock count report
Before reconciling the stock count, you should take a look at the stock count report. This report gives you a complete list of what has been counted, any deviations and totals.
Once the stock count is complete, download the stock count report by doing the following:
In the menu, click Flow of Goods.
Select Stock Count.

Find the stock count and click arrow-down next to Open stock count
Click Stockcount report. The file will now be downloaded as an excel-file.
How to read the stock count report
The stockcount report includes three tabs:
Stock count list
Deviations
Totals
Stock count list
This sheet will give you a full overview of every product counted with the following information:
Product information - such as name, brand, size, cost, outprice.
Stock count - this is the amount counted of the products per size.
Total - this is landed cost x number counted.
Deviations
This sheet will give you a full overview of all deviations on the stock count. This list is helpful to uncover any discrepancies; if you've forgotten to count some items or if there are real deviations in your inventory. This sheet gives you the following information:
Product information - such as name, brand size, cost, outprice.
Stock - this is the stock quantity you should've had in stock when you started the stock count.
Stock count - the stock amount counted per size.
Deviation - the deviation between stock and stock count.
Absolute deviation - the deviation between stock and stock count in absolute values.
Totals
This sheet will calculate the total stock value and the total amount of deviations, and includes the following:
Total value counted = sum of totals (landed cost x stock count).

Total quantity counted = sum of every item counted.

Total stock value = value of the stock at the beginning of the stock count.

Total stock quantity = total amount of items in stock at the beginning of the stock count.

Total deviation value = total stock value - total value counted

Total deviation quantity = total stock quantity - total quantity counted

Total deviation value (including negative stock value)

Total deviation amount (including negative stock quantities)
How to reconcile a stock count
When you've looked through the stock count list and everything is counted, you're ready to reconcile your stock count. This is how reconciliation is done:
In the menu, click Flow of Goods.
Select Stock Count.

Find the stock count and click Open stock count.
Click Reconcile stock.
Info
Once you've reconciled, the stock will update to what you've counted and reconciled. The Front Systems app will synchronize within 15 minutes to what has been reconciled.
How to add users and understanding user types/roles
---
Before you start adding user accounts for your company, you should understand user types and roles.
Front Systems uses roles and user types so that the organizations can easily organize access for their employees and partners.
Managers should understand the various concepts so that they can make the right decisions about user access in your business.
User types
User
As a user in a company, you can be assigned a role. If your company has multiple stores, the user can get access to either one or multiple stores. The role assigned per store can vary. The vast majority of employees working in a store should only be given a "User" type
Company Admin
As a Company Admin, you get full access to all resources in Portal for your company. This user type should be reserved for as few employees as possible and is best suited for the owner of the company or the IT manager.

Backoffice roles
As a user, you can be assigned either a system role or a company defined role.
System role
A system role is a predefined role that is created by Front Systems and these can't be customized, changed or deleted.
A user can be given one role in one store and a different one in another. E.g, a user can be Store Manager in one and Accounting in another.
This is the list of available system roles:
Accounting
Enterprise staff
Enterprise Store Manager
Floor Manager
Shift Manager
Staff
Store manager
Store manager limited
Support
Warehouse
You can find an overview of what access is given to each role by selecting Admin in the menu on the left followed by Roles and hit the "eye"-symbol next to the role you want to look into.
Company defined role
If none of the predefined system roles are suitable for your Company, you can create customized roles.
A customized role will only apply to your company and can be assigned in the same way as system roles, per store.
N.B.
To create your own customized roles, your company needs to have a Large or X-Large subscription. Please read more about this feature in this
article
.
Adding users
To start utilizing Front Systems Portal for your organization, you need to add and invite employees who needs access to Portal.
Most actions performed by an employee in Front Systems Portal is documented so that you can easily find out which employee has performed what action. In addition, to increase security, this also results in better collaboration in the organization as you can easily see who, e.g. received the last delivery from a supplier, who performed which sale, etc. Therefore, we recommend all employees having their own user account in Portal.
N.B.
We recommend creating unique user accounts for each employee in Portal. For the purpose listed above, don't use joint user accounts.
A user account needs to be created for an employee to access Portal.
To create a user account, do the following:
In the menu, select Admin followed by Users.

Click New user.
Add the employee's information and select user type.
Hit Save.
Add access to store(s)
After the user has been saved, you have to define which store(s) the employee needs access
N.B.
You don't have to apply store access to user accounts with the user type Company Admin. They will automatically get access to all stores in the company. Skip this step if the user you have created has the user type Company Admin.
To apply store access, do the following:
Click the

+

symbol
A new line will now appear where you add the store and a backoffice role.
If the user needs access to multiple stores, repeat the steps above.
Hit Save.
Give user access to Front Systems POS
In order to handle sales, the user needs to have access to the Front Systems POS.
To add a user to the POS, do the following:
Click Edit on the relevant user.
Check the box List user in POS so it says ON.

Send invitation to user
When employee information, store access, and back-office role has been applied. You have to send an invitation to the user. This invitation will be sent to the employees' email where they need to accept the invitation and create a password.
Hit Send invitation in the upper right corner.

Invitation status
Not invited - the employee has yet not been invited to use Portal.
Sent - an invitation has been sent to the employees' email, but it hasn't been accepted.
Delivered - the recipient has received the email in their inbox.
Read - the email has been read.
Declined - the email couldn't be delivered to this email address.
Expired - it has gone more than 30 days and the invitation has expired.
Active - the user has accepted the invitation.
Video example
Use of reports
---
In this section, you'll learn how to use our dynamic reports. With our dynamic reports, you can build up your own reports and display your desired dimensions and measurements. These can be found in the menu under Reports.
We have four dynamic reports:
Sales
Sell Through
Best Sellers
Stock
For the purpose of this article, we will use the Sales-report as an example.
Date picker
With the date picker, you can customize the time period or select a predefined period.
Dimensions and measurements
You can customize the actual content of the report by organizing the dimensions and measurements being displayed.
You can change the order of the dimensions by dragging and dropping the text box to organize the information according to your needs.
To Add or remove dimensions and units of measure, click the Field Chooser.
When you click Field Chooser a Field Chooser-box will appear. If you want to add a dimension, you can drag the dimension to the row-field.
You can also sort the dimension by dragging the dimensions within the Row Fields box.
To remove an unwanted dimension, drag the dimension from the Row Fields-box back to All Fields.
Do the same to add and remove measurements, which is found under All Fields > Measurements. These can be dragged and dropped to the Data Fields.
Filter
If you want to limit the report content, e.g, to only see certain brands and product groups, you can do that by hitting the Filter Options button (displayed below) in the top left corner. If you want to remove a filter, hit X next to the set criteria.
N.B.
To expand the rows, right-click on the row and hit
Expand
. Do this for each of the
main
rows in the sheet.
To sort the data, you can place the mouse pointer over the column, right-click and select the dimension you want to sort by. The report is sorted from lowest to highest at first click and highest to lowest at the next click.
Settings
Here you can customize the display of totals, the location of totals, and how to compare data.
Diagram
By clicking the diagram-box you will get the data presented in a diagram.
Useful reports
Sales report
The sales report is useful as it gives you a complete list of sales for the given period. This report can be customized as needed with a wide range of dimensions and units of measure. By default, Product Group, Brand, and Product are displayed as dimensions and Quantity Sold, Gross Sales, Gross Margin, and Gross Margin Ratio as units of measure.
Stock report
This report is useful to keep track of your inventory. By default, the report will be displayed by season, brand, product group, product, and product number as dimensions and stock value share, stock value, and stock quantity as the measuring units.
Daily Summary report
The daily summary report gives you an overview of sales transactions, gross sales, net sales, discounts, gross margin, gross margin ratio, and cost of goods sold for a day or a longer period.
In addition, it gives you an overview of payment types, budget, products sold, and what has been sold per hour / per day.
In the menu, click Reports.
Select More...

The Daily Summary report will be shown as default.
Set date / period
Click Change to change or add store(s).
Check the store(s) you want to see the daily summary for and hit Add.
Click Show report.
In the below example, you can see the first part of the Daily summary report from 01.10.2020 to 01.10.2020 for store Demo Syd.
Z-report
All registered settlements (Z-reports) can be found in Portal. This will give you an overview of the POS settlement for a given date or period and shows
In the menu, click Reports.
Click More...

In the drop-down menu, choose Z-report
Choose date or period
Select store and hit Show report.
In the below example, you see the Z-report for07.09.2020 for Demo Syd. As you can see, there are two settlement registered this day
Use of the Sales-section and Sales details
---
In the Sales-section in Portal, all information registered in the point-of-sale will be registered as soon as you start selling products with Front Systems. The sales-section contains three parts:
Gift cards & vouchers

Here you can find all used/unused gift cards and vouchers.

Sales Details

Here you can find details of all sales, settlements, and stock movements, and also find receipts for completed sales transactions.

Bank card transactions

Here you can find all bank card transactions that have been started, completed, or executed on a given date.
You'll also be able to find the bank reconciliation note for any given date.

Register previous sales

If you're a new customer of Front Systems, you can enter previous sales so that you can compare sales from the previous year up against sales in Front Systems. Here you can enter the turnover by date up to a year back in time. If you choose to do this, you have a basis for comparison with last year's turnover.
How to see what has been sold and payment types used
The sales details page logs all sales, point-of-sale activity, settlements, and stock movements. This page is only accessible for advanced users of the system with administrator access, such as Company Admins and Store Managers.
To view sales details do the following:
On the menu, click Sales.
Select Sales details.

Select the appropriate date, check the Show logs-button, and click Select.
Find the sale that you want more information on and click More...
Scroll down to the bottom of the page. This will give you all the information on the sale, including sales lines, payments, stock movements, and logs in POS. As you can see in the example below, the customer has bought four items, paid with cash, four products were pulled out of stock, and the time stamp on the completion of the sale.
If you want to find the receipt, scroll further down until you see the receipt in the log
Status
Green square

under Diff and Status means that everything is OK.

Green square

under Diff and

blank square

under Status means that the sale is not complete.

Red square

under Diff means that there is a difference between the sales amount and the payment. The sale will not go through in the POS if these amounts aren't equal.
Yellow square under Dep means that the customer has deposited on the item(s). Press "Show more" to see which items this applies to.
Settlements
If you want to reprint or look at a settlement, you can find all registered settlements on the Sales details page.
In the menu, click Sales.
Select Sales details.
Choose the date of the settlement followed by Select.
Click Show PDF.

Gift cards & vouchers
---
All Front Systems registered gift cards and vouchers are registered in Portal. On this page, you'll get an overview of issued and redeemed gift cards/vouchers.
In the menu, click Sales.
Select Gift cards & vouchers.

How to use search and filter options
If a customer has lost their gift card or if you need to check if a gift card has been used. You can do the following:
Select gift card or voucher (whichever is relevant) in the top left corner.
There are multiple ways to search for a gift card/voucher:

If you have the gift card ID/voucher ID (found on the sales receipt/return receipt), you can enter that in the gift card /voucher id field.
If you know the approximate date, enter the date and choose exactly or +/- 1-3 weeks / 1 months

If you still don't get a desirable result you can also:

Choose store it was issued in
Decide if you only want to see active gift cards/vouchers or all

Hit Search.
In the example below, you can see all gift cards +/- One month of 01.09.2020 for Demo Syd
How to manually redeem gift cards and vouchers
In most cases, this will have to be done in the Front Systems app. You can read more about how this is done here.
Important
Be aware that redeeming a gift card/voucher in Portal
deactivates
the gift card/voucher, so this should only be used when the gift card/voucher is invalid.
In the menu, click Sales.
Select Gift cards & vouchers.
Find the correct gift card/voucher by using the search and filter steps above.
Click Redeem. The gift card/voucher is now deactivated.
Congratulations, you have now finished the Portal advanced module!