In this article, you'll be introduced to the different sections in FrontZapp and learn about the most basic functions. The more advanced functions will be discussed in the advanced FrontZapp training module. We recommend that you complete this training module in the order listed below:
Log in
---
This app can be downloaded on all apple devices from AppStore.
To be able to access FrontZapp, you need an active Portal user. If you don't have a user in Portal, read this article.
N.B.
Be aware that not all Portal users have access to all functions in FrontZapp. You can read more about the various roles
here
.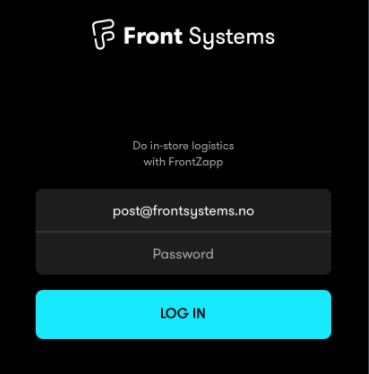 After entering your user credentials, you will be prompted to choose a stock/store. If you have access to multiple stocks/stores, choose the applicable stock.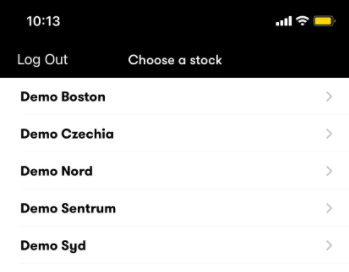 N.B.
If you don't remember your password, go to portal.frontsystems.no and hit
Forgot password
. You'll be sent a reset password link to your email where you can change the password.
How to change stock
---
You should always be aware of what stock/store you are working on in FrontZapp.
To change stock, do the following:
On the main screen, tap the cogwheel in the top right corner.
Click Stock

Select the correct store/stock

You are now in the correct stock.
Stock count
---
This function lets you do a stock count. To create a stock count, do the following:
Tap

Stock Count.
Select

Create New.
Edit the name of the stock count. For example, "Stock count August 2020".
Tap

Create.
Start counting the items.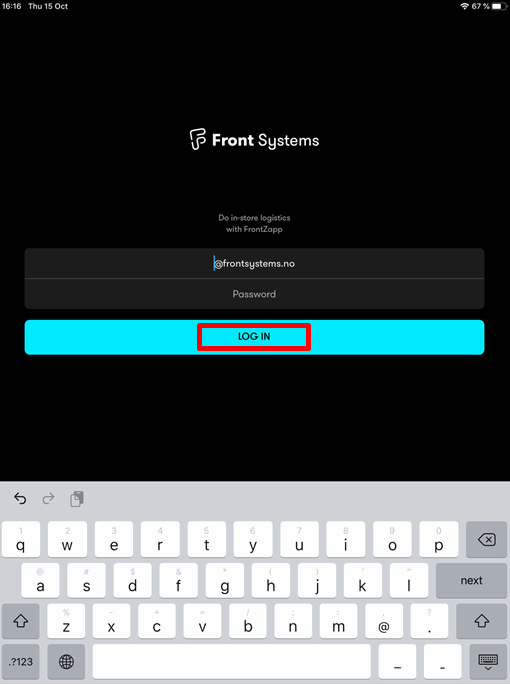 N.B.
Remember to
only
create one stock count if multiple employees do the same stock count. The rest has to join the original stock count created by going to
Stock count
and selecting the correct one.
How to reconcile a stock count
When you've looked through the stock count list and everything is counted, you're ready to reconcile your stock count. This is how a reconciliation is done:
In the menu, click

Flow of Goods.
Select

Stock Count.

Find the stock count and click

Open stock count.
Click

Reconcile stock.
Info
Once you've reconciled, the stock will update to what you've counted and reconciled. The Front Systems app will synchronize within 15 minutes to what has been reconciled.
Stock availability
---
This function lets you check stock availability in your store.
Do the following:
Tap Stock availability.
Scan the barcode or enter the barcode number manually.
Product transfer
---
This function lets you transfer products between stores/stocks by scanning the products you want to transfer. When the products are transferred, the transfer can also be received by the applicable store here. Further explanation can be found in the advanced FrontZapp article.
Deliveries
---
This function lets you enter a delivery of products into your stock. You'll have the option to either create a direct delivery or a planned delivery. Further explanation can be found in the advanced FrontZapp article.