Settings
---
Once logged into FrontZapp, you can tap the cogwheel to enter Settings. Here is a list of various functions available in Settings: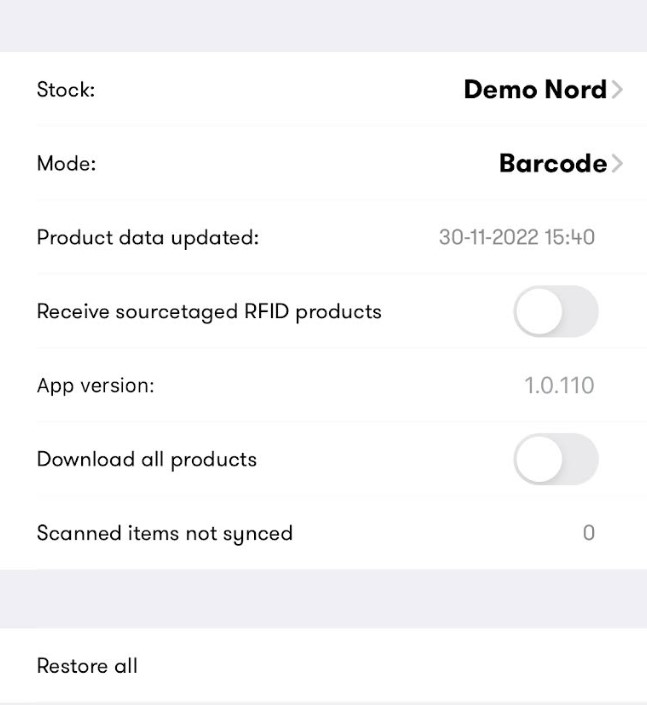 Stock: Here you can select the relevant stock.
Mode: Determines if you are working with barcodes or RFID tags.
Product data updated: This shows the last time your product data was synced to FrontZapp. If you want to run a sync again, tap on this.
Receive sourcetagged RFID products: This is a function to perform goods receipt on RFID source tagged products. A prerequisite for this is to create a planned delivery in Portal for all products expected to be delivered in that order.
App version: This shows the current app version.
Download all products: This will download all registered products in the company regardless if there is a stock movement or not.
Scanned items not synced: When you are having sync issues due to a bad connection or no internet, this tab lists the number of scanned items that have not been synced to the server. To retry sync, tap on this.
Restore all:

Tap on this to delete all local data and

retrieve

refreshed data from the server.
N.B.
When using FrontZapp, always ensure that you have selected the correct stock in settings. This way you refrain from creating a stock count, product transfer or delivery in the wrong store/stock.