IMPORTANT MESSAGE TO EVERYONE
To ensure that all counted products are uploaded to the server, it is important to do the following on
all
iPhones before closing the app.
iPhone has Internet connection.
FrontZapp is active.
Leave FrontZapp open for 5 minutes before closing the app.
Create the stock count
---
Open FrontZapp (if you work in multiple stores/stocks, check that you're in the correct stock by selecting the cogwheel in the top right corner)
Tap

Stock Count.
Select

Create New.
Edit the name of the stock count. For example, "Stock count August 2020".
Tap

Create.
Your stock count has now been created. The stock count will be reconciled against what you had in stock at the exact time the stock count was created. This means that all items you currently count must represent your inventory at the given time.
N.B.
Make sure that everyone participating in the stock count opens the already created stock count. Do
NOT
create a new stock count on each iPhone.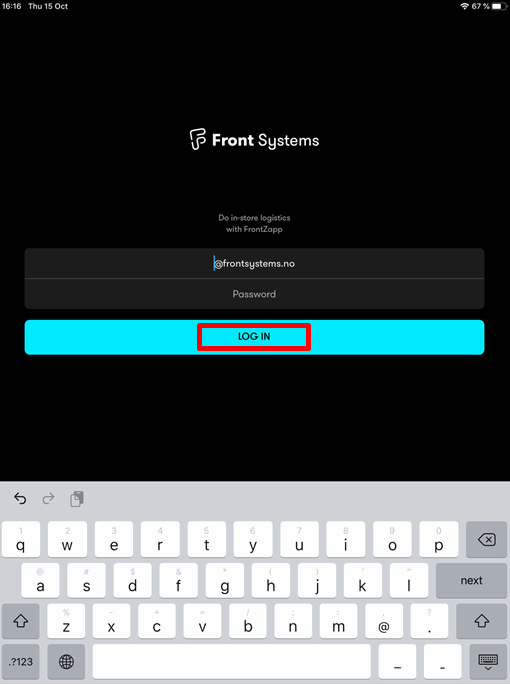 Open the stock count on all participating iPhones
---
Open FrontZapp.
Select Stock Count.
You will now get a list of all active stock counts registered this store (if the stock count is not listed, check that you are in the correct store/stock by tapping the cogwheel in the main menu).
Select the correct stock count to join.
Start counting
---
Scan the barcode labels.
You can get an overview of what has been counted by clicking List of items. All products counted are listed under Product list and the products you have counted will be listed under Your list.
How to remove wrongly counted items
---
If you have scanned an item that shouldn't have been counted, you can easily remove the item by doing the following:
In the stock count, select List of items.
Under the tab Your list, swipe left on the product you want to remove from the stock count.
How to manually enter quantity
---
If you don't want to scan all the labels for a product, you can scan an item once and then manually enter the total number counted. For example, you can scan a pair of socks, count the quantity you have and then register this amount. This has to be done per size. Do the following:
Scan one size.
Count the number of items of that size.
Tap the keypad symbol on the right side of the product listed.
Enter the quantity counted.
Hit OK.
Repeat the above steps for the rest of the sizes.