In this article, you'll learn how to use our dynamic reports. With our dynamic reports, you can build your own reports using dimensions and units of measure.
Dynamic reports: Layout and options
---
These reports can be found under the Reports menu.
Below are the four dynamic reports available in Portal:
Sales
Sell Through
Best Sellers
Stock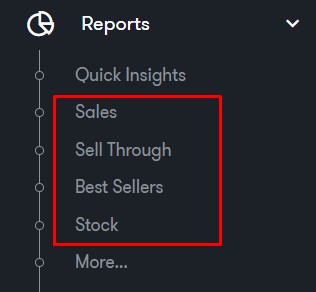 Let's use Sales report as an example to know more on a report's layout and options.
Layout & options
In this section:
Create a customized report
Each of these reports has x-amount of saved presets that can be used and adjusted to your needs.
Select the drop-down list to access the saved presets.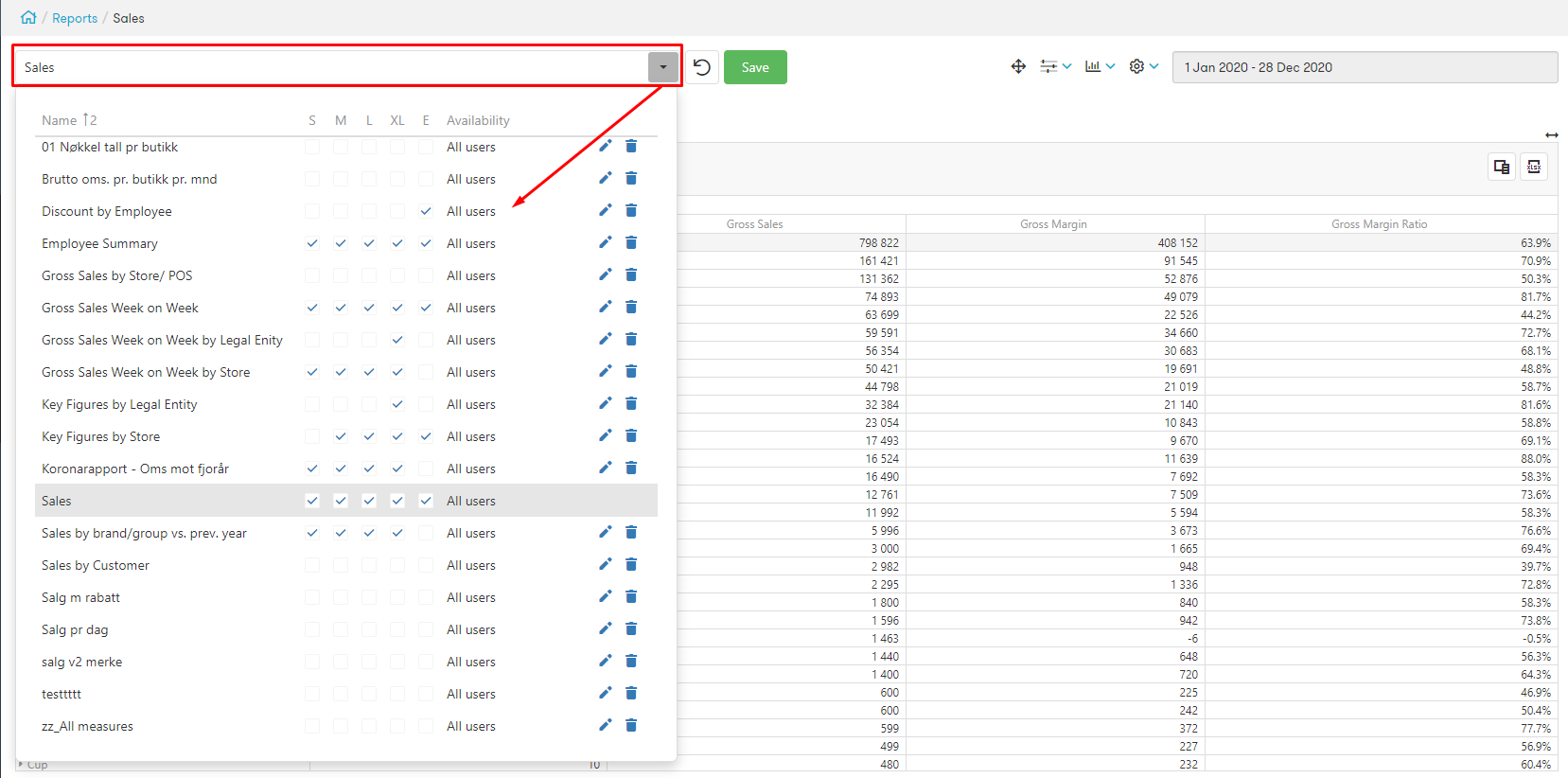 When saving your tweaked version of the report, click on the green Save button.
In the Save report window, click on New report.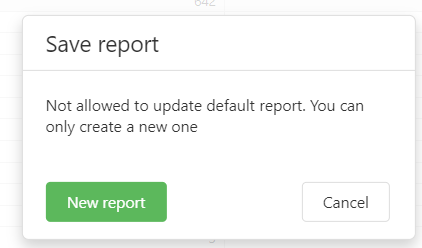 Choose a name for the report and click on the save icon.

The saved report will then be available as an option under the drop-down list.
Date picker
Use the date picker to customize the time period or select a predefined period.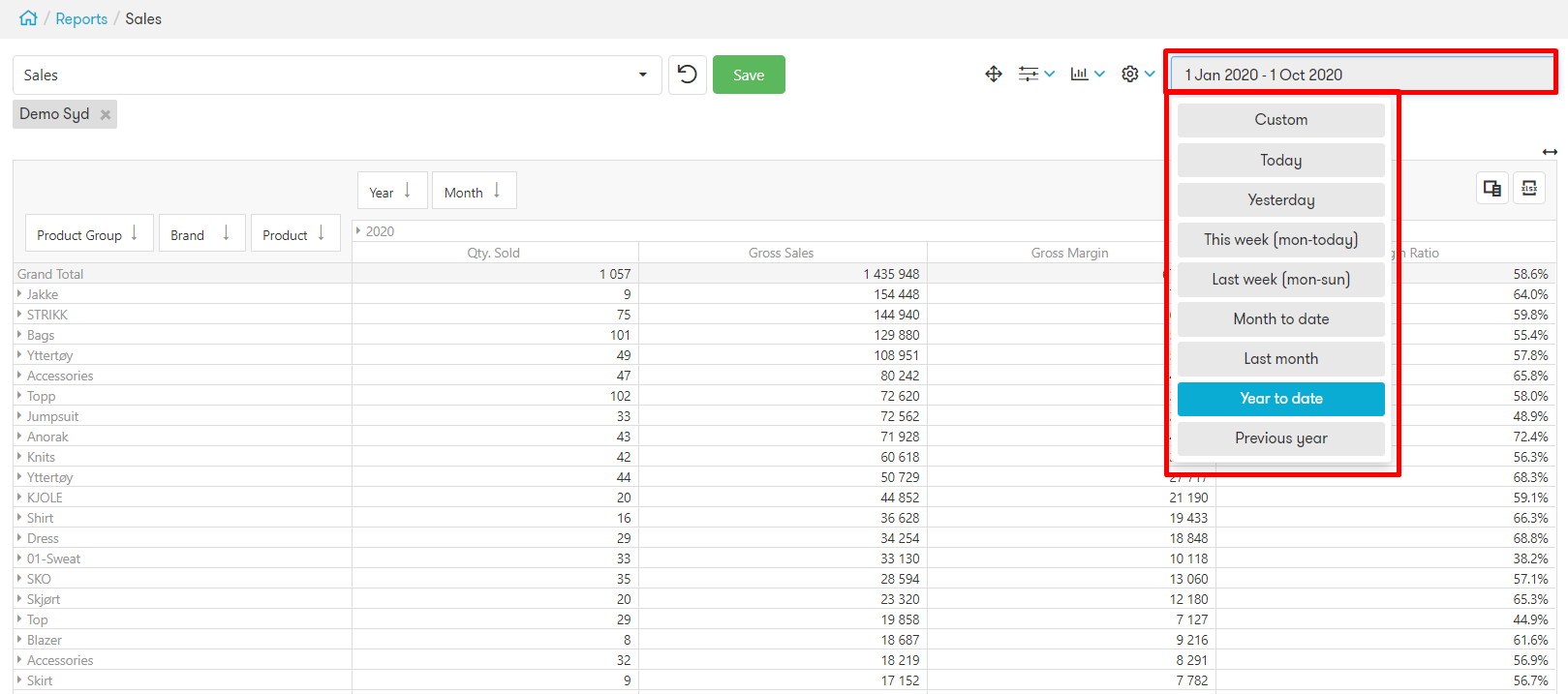 Dimensions and Units of Measure
The content in the dynamic reports are structured by rows and columns and contains dimensions and units of measure. Each of the dynamic reports has a set of predefined dimensions and units of measure.
You can customize the actual content of the report by changing the order of dimensions and units of measure.
In the example below, column dimensions are passive. Drag them down and align them with the other dimensions to include them in the report. In the picture below you can see that three dimensions are active and two are passive.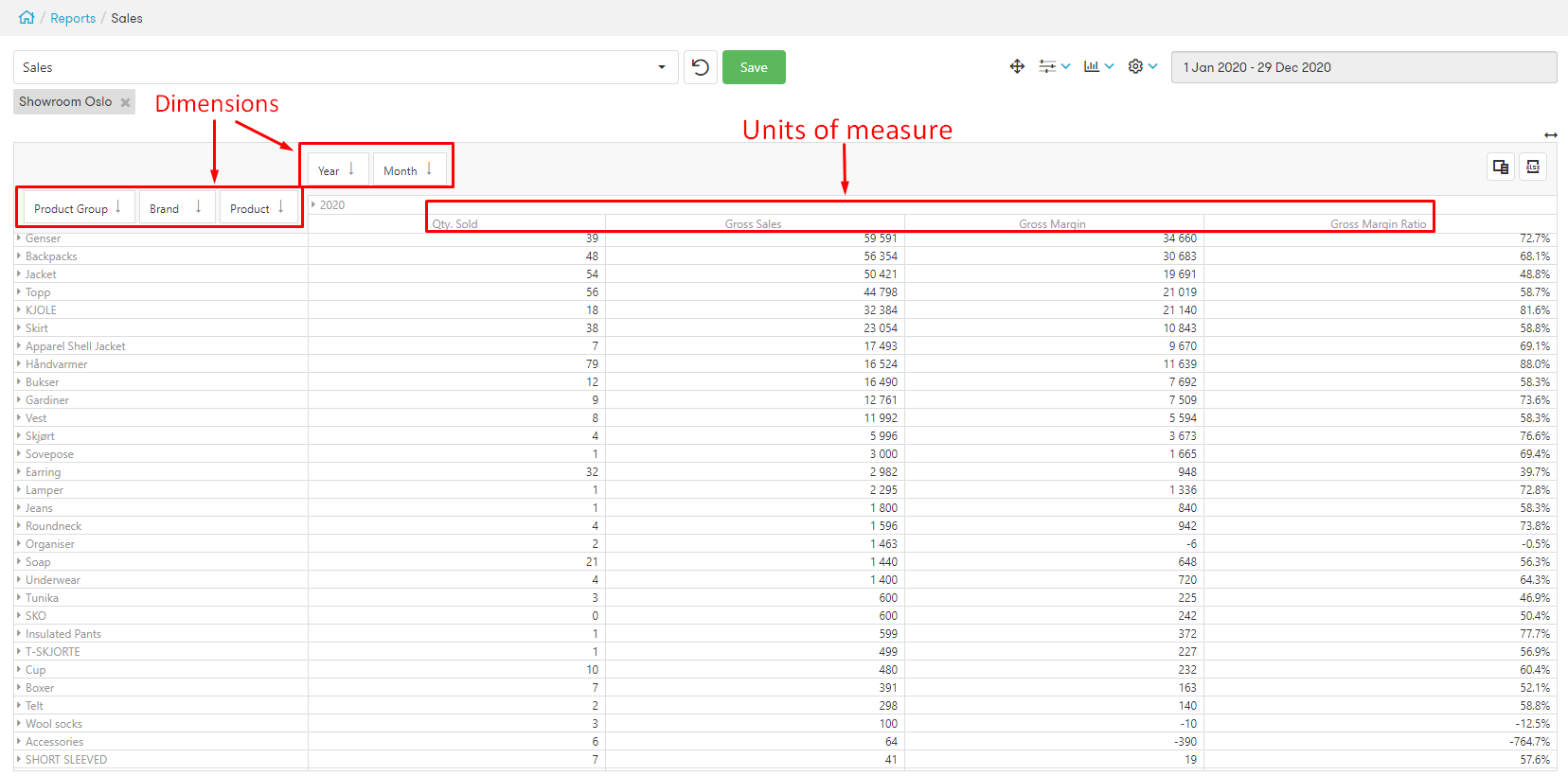 Field chooser
Dimensions and units of measure can be easily added, removed or rearranged using the Filed chooser.
To do so, click on Show field chooser and expand the menu for Dimensions and Measures.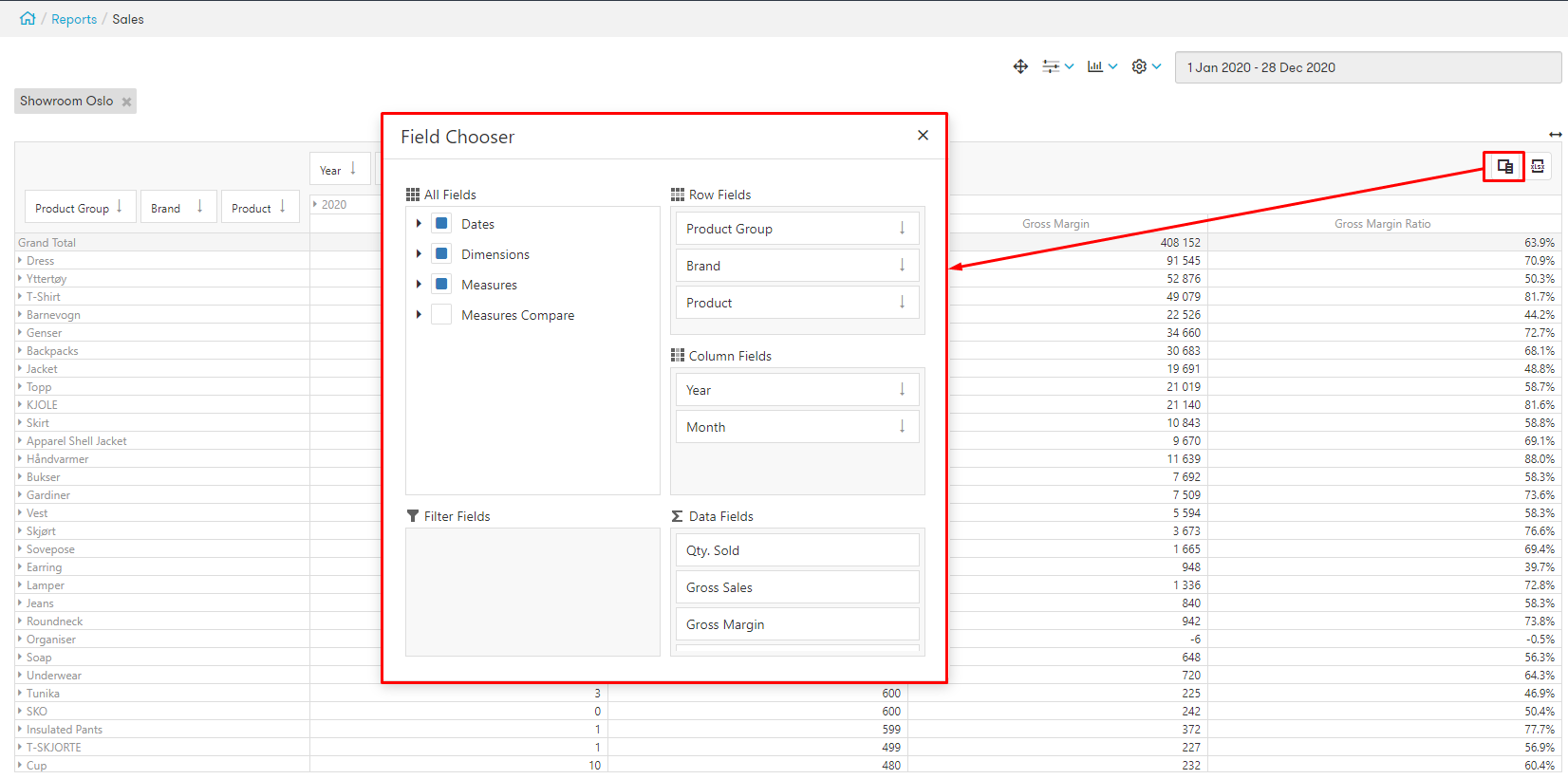 To include dimensions or units of measure in your report, you can either select the checkbox next to the desired dimension or drag it to a Row field or Column field.
In the report, dimensions and units of measure will be displayed in the same sequence as added in the Field Chooser.
You can also add various date intervals in your reports using the Date menu.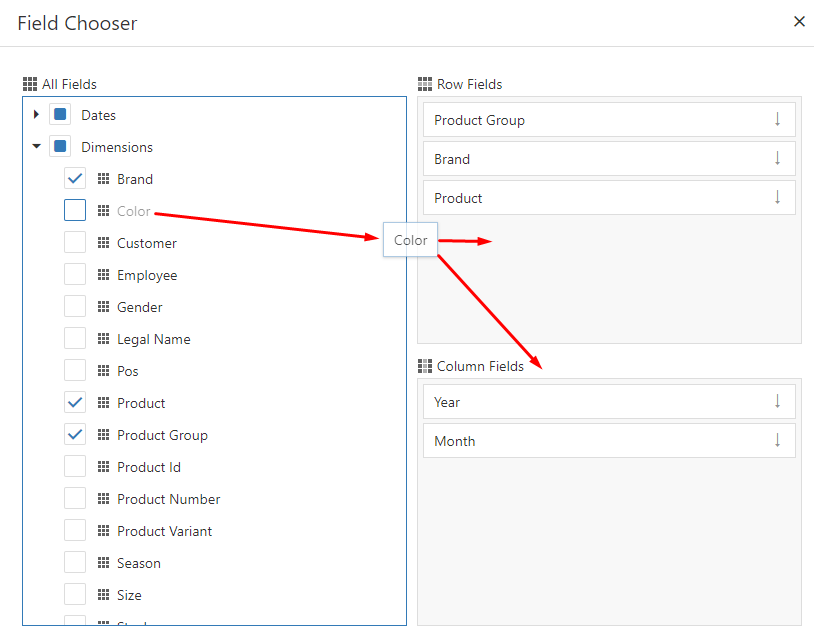 Filter
This option allows you to filter data based on what you intend to include in your reports.
To limit the report content, for example, to view only certain brands and product groups, click on the Filter Options icon (displayed below). If you want to clear a filter, click X next to the set criteria.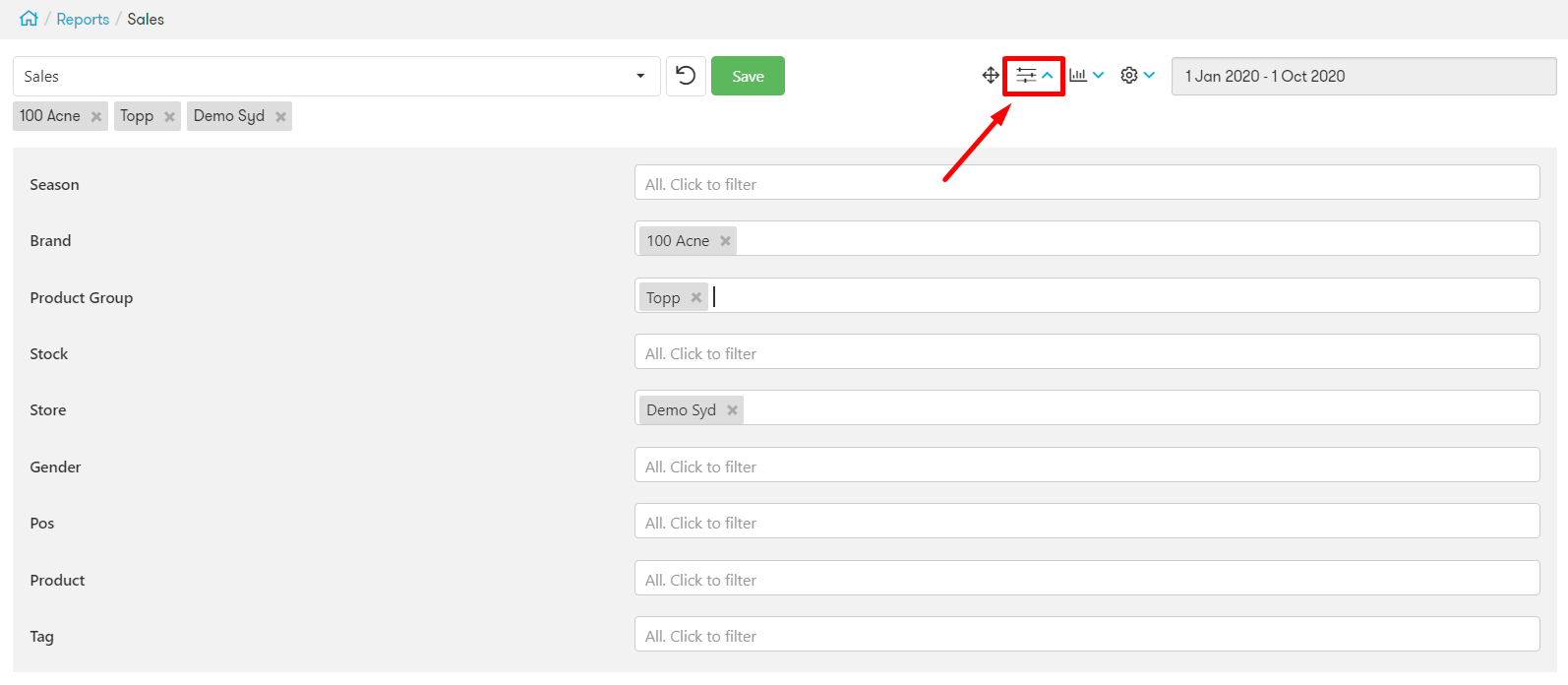 Settings
Here you can adjust the display of Totals by selecting the desired checkbox.
For example, select Show Column Totals if you would like to display totals for each column.

View report's data in a chart
Clicking the graph icon, will present the report's data on a graph.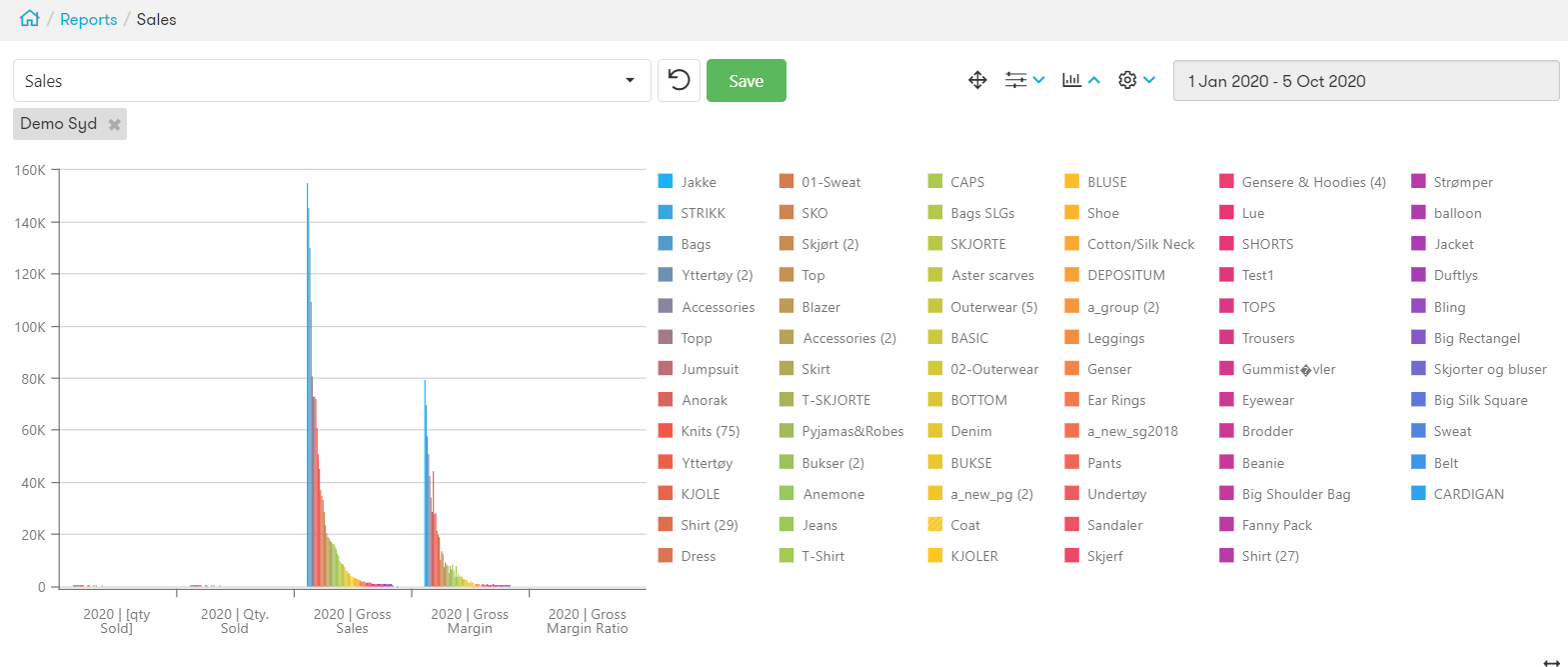 Expand / Collapse / Sort report data
Once the content in the report is defined, you can expand or collapse the grouping of each dimension and date interval.
This can be done by clicking on the small arrows on each data field, or by right-clicking a data field to show an options menu.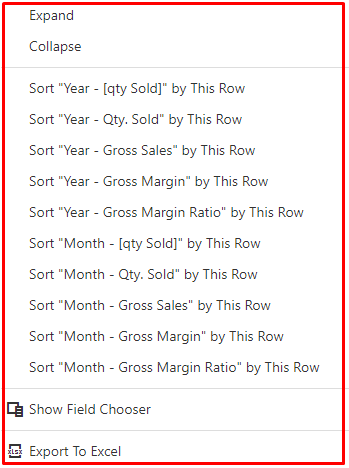 To sort data in the report, place the mouse pointer over a data field, right-click and select the dimension you want to sort by. The report is sorted from lowest to highest on the first click and highest to lowest on the next click.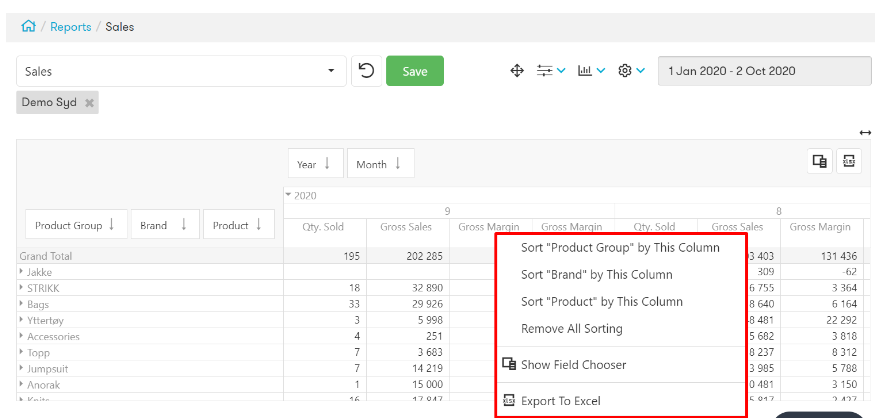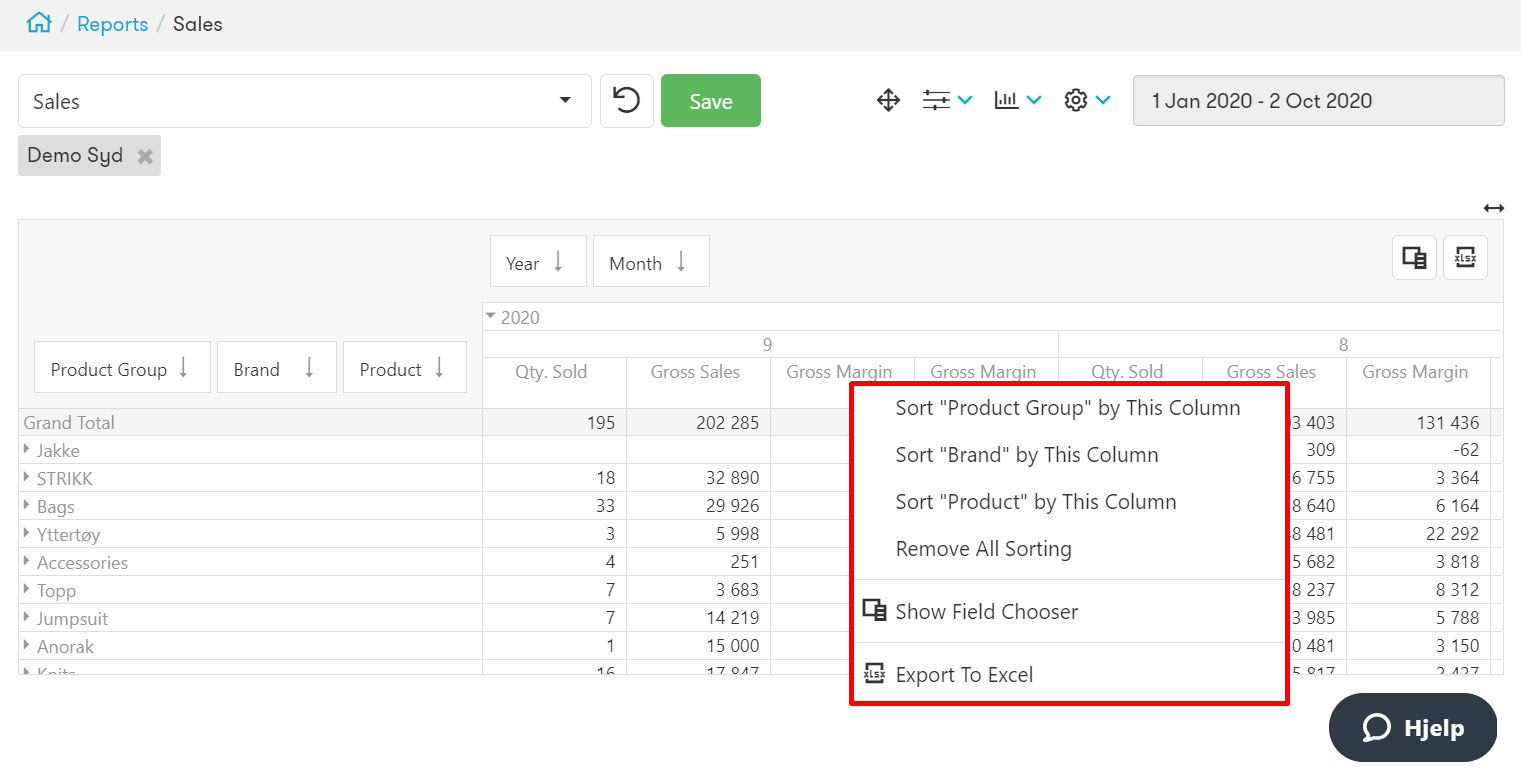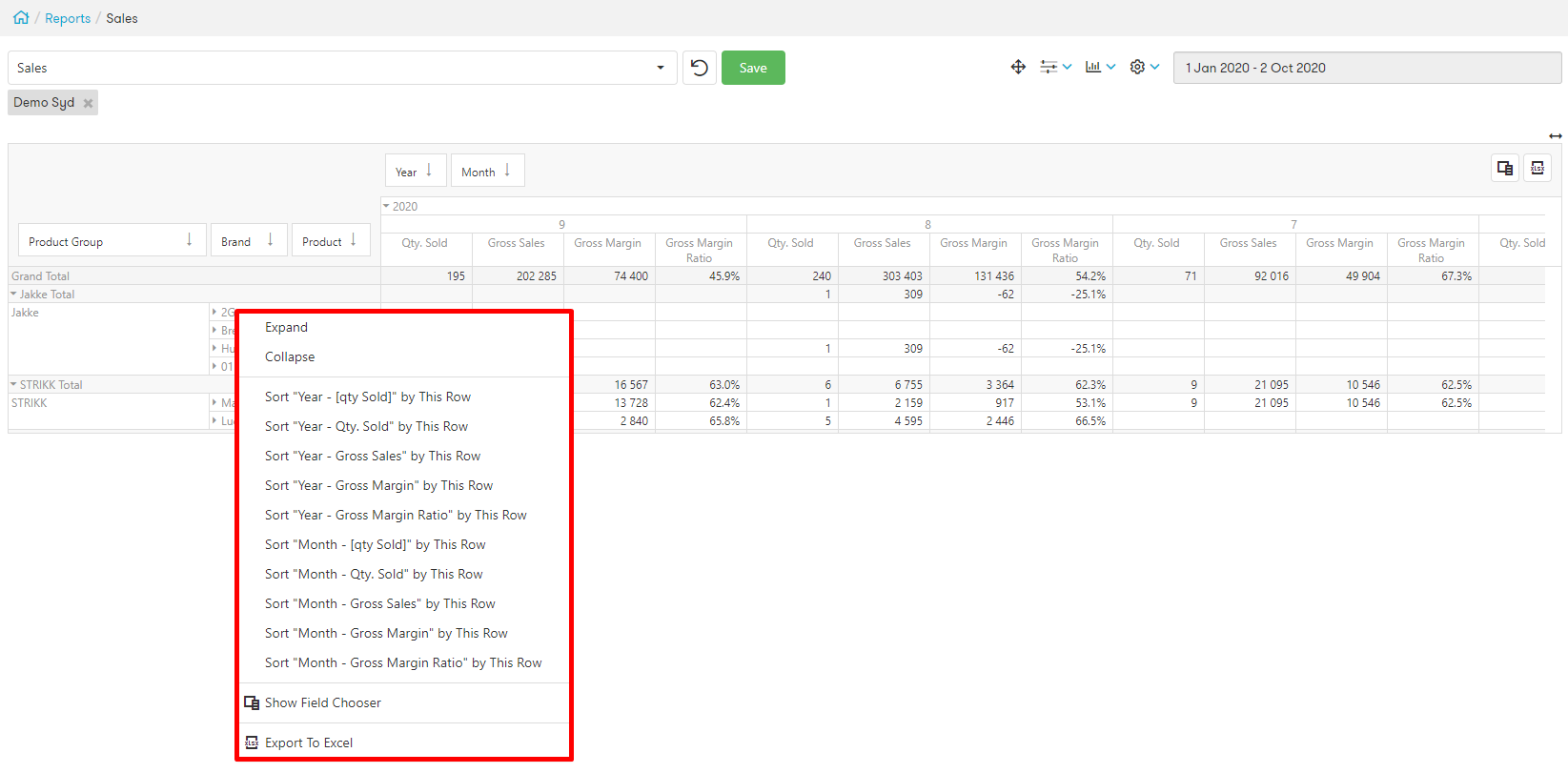 Popular reports
---
Below are some of the most widely used reports:
Sales Report
The sales report is useful as it gives you a complete list of sales for the given period. This report can be customized as needed with a wide range of dimensions and units of measure.
By default, Product Group, Brand, and Product are displayed as dimensions and quantity sold, gross sales, gross margin, and gross margin ratio as units of measure.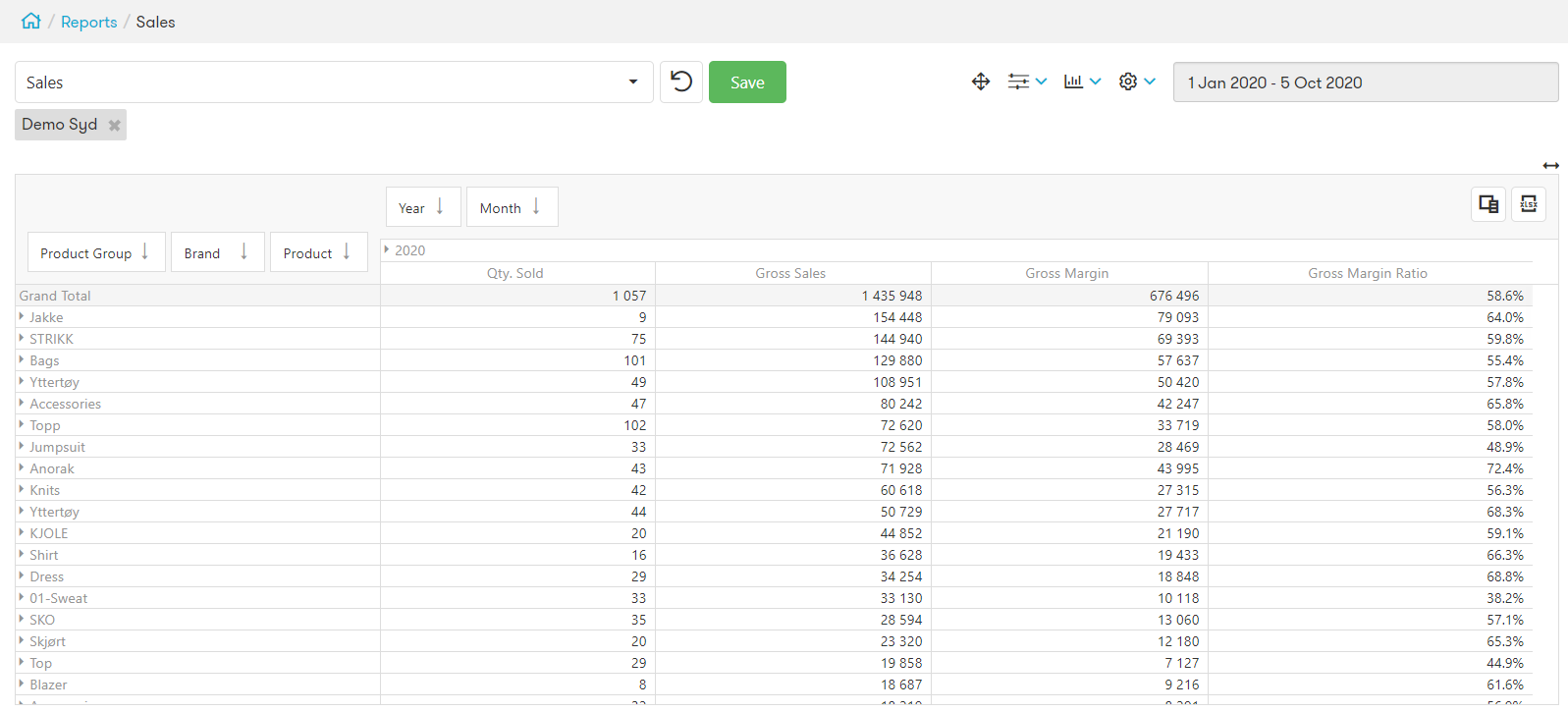 Stock Report
This report is useful to keep track of your inventory.
By default, the report will be displayed by season, brand, product group, product, and product number as dimensions and stock value share, stock value, and stock quantity as the measuring units.

Daily Summary Report
The daily summary report gives you an overview of sales transactions, gross sales, net sales, discounts, gross margin, gross margin ratio, and cost of goods sold for a day or a longer period.
In addition, it gives you an overview of payment types, budget, products sold, and what has been sold per hour / per day.
Navigate to Reports and select More...

The Daily Summary report will be shown as default.
Choose a date or period.
Click Change to change or add store(s).
Check the store(s) you want to see the Daily summary for and click Add.
Click Show report.
In the below example, you can see the first part of the Daily summary report from 01.10.2020 to 01.10.2020 for store Demo Syd.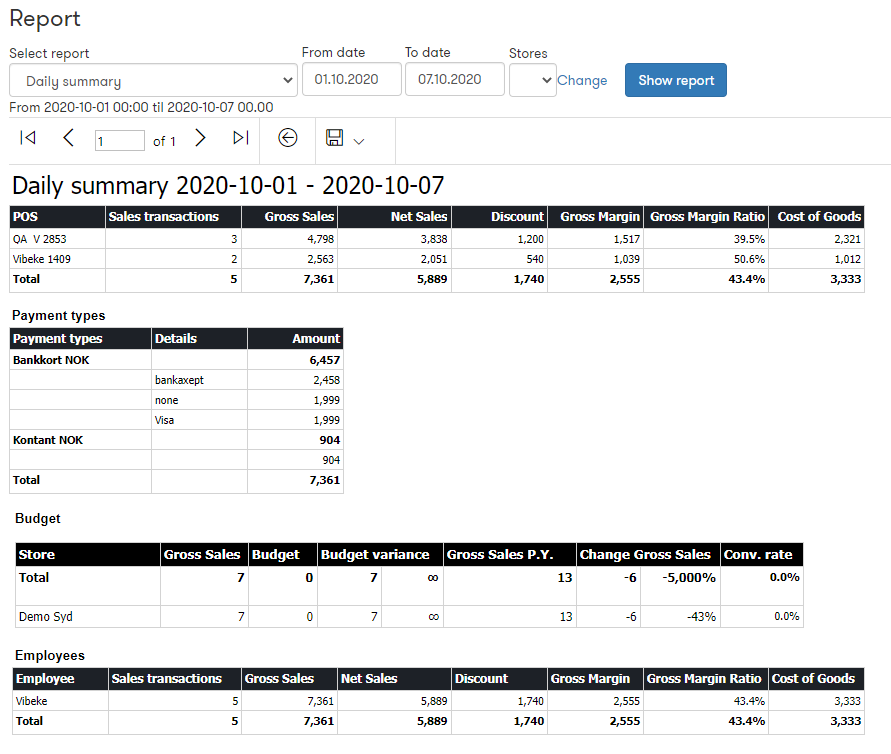 POS Settlement Report
All registered settlements (Z-reports) can be found in Portal. This will give you an overview of the POS settlement for a given date or period.
Navigate to Reports and select More...

Select POS Settlement report from the drop-down list.
Choose a date or period.
Select the relevant store and click Show report.
In the below example, you can see that there are two settlement registered on this day.