In this article, you will learn how to view gift cards & vouchers, sales and bankcard transactions that have been registered in the POS.
Gift cards & Vouchers
---
Gift cards and vouchers that have been issued or redeemed in Front POS are registered in Portal.
To view all these gift cards and vouchers, navigate to Sales and select Gift cards & vouchers.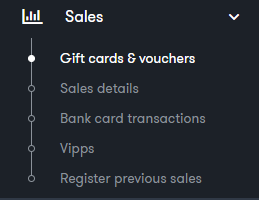 For more information on gift cards & vouchers, click here.
Sales details
---
On this page, you can find an overview of all the sales that have been processed in your store.
Details of a specific sale
Clicking on a specific sale will display the details below:
Details such as receipt number, POS, Seller.
Item information such as product details, costs, discounts etc.
Payment details such as payment type used (card, cash, gift card etc.).
Stock movements and customer information (if provided at the time of the sale transaction).
Browse through sales using search
In this section:
Lookup a sale
You can lookup a particular sale using Sale ID, Receipt number, External ref., Customer, Seller, POS, or Product ID.
Filter the list of sales
You can use filters to limit the search results. The combination of keywords and filters will help you find the specific sales that you need quickly and easily.
The filter has the following options available: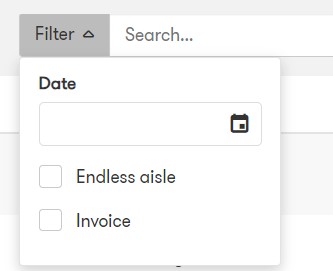 Date: Use the date picker to view sales on a particular date.
Endless aisle: Select this checkbox to view all the sales that have been processed online.
Invoice: Select this checkbox to view all the sales that have been processed with payment type =Invoice.
Settlements
---
Here you can find a copy of the Z-report that was generated in POS.

Bank card transactions
---
On this page, you can find all the bank card transactions that have been started, completed, or executed on a given date.
You'll also be able to find the bank reconciliation note for any given date.
Register previous sales
---
If you are a new customer of Front Systems, you can enter previous sales to compare sales from the previous year against sales in Front Systems.
Here you can enter the turnover by date up to a year back in time. By doing this you will have a basis for comparison with last year's turnover.