Here you can set the preferred settings for the POS used in your Company, Region or Store.
Settings on a POS are stored in a multi-layer way.
The different levels are:
All POS in the company
All POS in stores within a region
All POS in a store
A POS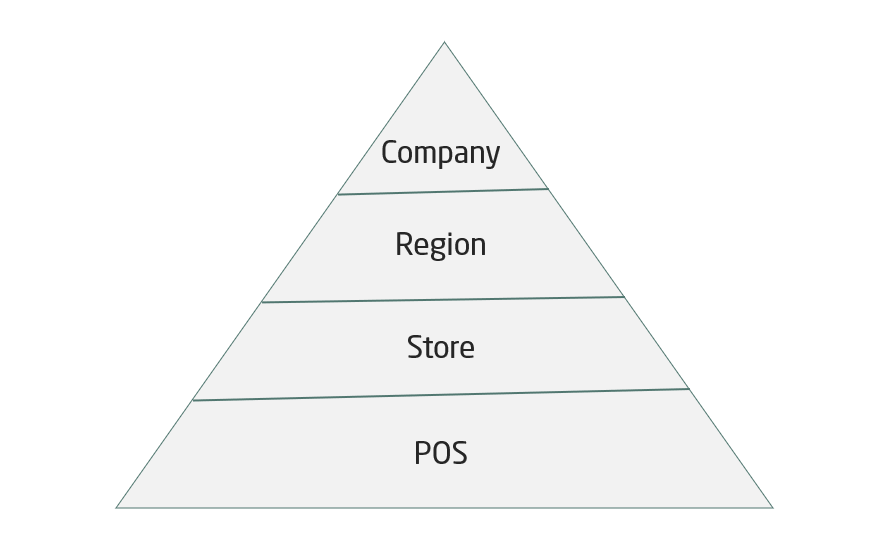 In this section:
POS details:
Accounting information, device information and QR code required for POS setup can be accessed here.
POS settings:
Before we proceed, let's familiarize with a couple of terms that you will come across on POS settings page, namely Inherited and Overridden.
The different POS settings inherit the values defined at either Company, Region or Store level.
This allows you to configure the settings once and use them all through (i.e., settings defined at Company level will be applied to Region, Store and POS). If you want the value of any of these settings to differ, you can override the inheritance.
Override allows you to supersede the defined value.
Let's take Price list as an example to understand the two better:
In certain instances, you might want to use a different price list for outlet stores than their full priced retail counterparts that have a price list defined at company level.
To do this, select Overridden to override the price list value and use that only for that store. All other stores in that company will inherit the value defined at company level.
Inherited means that the setting has been defined at another level.
For example:
If you make a change on Company level, then all settings lower than the Company level (i.e., Region, Store & POS) will be affected only if they have 'Inherited from Company'.
If the settings have 'Inherited from Region' OR any level lower than Company, then those will not be affected.
Below are the different POS settings that you can use to enable/disable or configure features:
---
General:
These settings assist you in the general usage of POS, such as using a pin code to login, allow credit card returns, allow invoice on registered customers and so on.
Receipt texts:
Once a sale is completed, you will be prompted to provide your customer with a receipt. The text printed on the different types of receipts, such as for vouchers, gift cards, receipts with discounted items, return notes and Omnichannel receipts can be customized here.
Electronic receipts:
SMSreceipt
When this setting is toggled ON, you will be able to use SMS receipt option in POS. You can either use the default SMS text or override it.
Webhook receipts
Here you can subscribe to receive SMS or email notifications when specific events occur in your store, such as when a sale is processed or an order is placed and such.
Price lists and discounts:
Price lists
Recommended price list: When you want to use a discounted price for a product, the Recommended retail price acts as the price before discount.
Sale price list: Use this when you want to use a sale price that is different from the Recommended retail price for a particular product.
Show price list as discount: To show the difference between Recommended retail price and outprice as discount in POS, select this check box.
Discounts
Here you can override the pre-defined values (10%, 15% and 30%) in POS to set user-defined discount buttons.
Info
For more information on Price lists, click here.
For more information on Discounts, click here.
Gift cards:
Here you can choose the gift card provider, enable transactional gift cards and allow top up on external gift cards via the bank terminal.
Omnichannel:
Omnichannel settings facilitate in managing online refunds, creation of orders in POS, set brand and product groups for freight products, and also select online stock(s) to be used for endless aisle.
Here you will see a list of all the payment services supported in your POS such as Vipps and so on.
Settlement forms:
When this setting is toggled ON, gift cards and vouchers issued in the previous system can be redeemed in Front Systems POS.